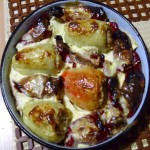 The old Serbian traditional meal,especially its extended version with kaymak,which enriches the taste of this meal.Really,an extraordinary delicious recipe.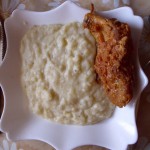 This is an old Serbian, very tasty contribution to all main meals like:fried breaded pork steaks,fried breaded chicken meat pieces,fried duck,fried fish etc.
The fresh and crispy black bread is a delicious and nutrient contribution to any main meal like all kinds of meat,fish,many smears etc. It's healthy, really!