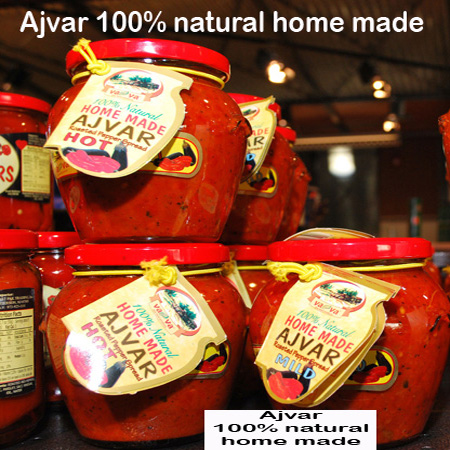 Ingredients :
10kg of peppers (Fleshy red peppers)
2kg of eggplant
2-3 heads of garlic
2dl of cooking oil
Adding vinegar, salt and ground hot peppers (Optional) to taste
1 small bag (5g) of preservative powder (Konzervans)(E211 :Sodium benzoate / Benzoic acid sodium salt
Preparation :
Step 1 :
Burn all red peppers and eggplant directly on the stove plate (Old type stoves), or on the burner plate (Electric stove), or in the casserole in the oven, or on the grill grid. Burn them until their outside layer starts to peel off and be careful not to be over-burned. Peel them off, remove the seeds out and grind them in the meat grinder (Electric meat grinder or the manual one).
Step 2 :
Put the larger cooking pot on the stove to be heated with just a little cooking oil and carefully pour the ground peppers and eggplant mixture into it adding, little by little, a cooking oil at times. Stir it constantly with the wooden spoon. When the mixture starts to boil, cook it about 15 minutes more, as the mixture becomes more dense. As the density is higher, ajvar will be more lasting and will be longer protected from spoiling. When the ajvar was cooked add vinegar, salt and ground hot peppers (Optional) to someone's taste and a little quantity (It must not be the whole bag of 5g) of preservative powder (Konzervans) and stir it well. Take the cooking pan off from the stove and prepare glass jars for pouring in of ajvar.
Step 3 :
Pour hot cooked ajvar into the glass jars (1 or 2 liters capacity) and put them into the switched on oven on the temperature of 500C for about an hour until the upper layer of ajvar gets a thin crust. Switch off the oven and leave the glass jars inside until tomorrow to be cooled gradually. After that, close the glass jars with the lid or a cellophane paper and ajvar is ready to be used. Keep the jars on a dry, dark and
moderately cold places. Have a good appetite and enjoy.
Ajvar is a special domestic home made Serbian recipe, very delicious meal with the special taste and could be served as an addition to a main food, contribution to all kinds of cooked or roasted meat, instead of salads.
Ajvar - Serbian Roasted Red Pepper Sauce

,