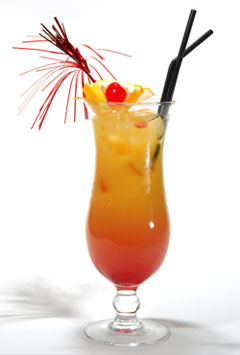 Ingredients:
50 g Tequila,
orange juice,
little grenadine,
cherry or orange slice.
Preparation:
Pour tequila in a tall glass with ice and pour orange juice. Stir.
Add Grenadine by angle the glass and quickly turn the bottle upside down – the exact amount is not important. Grenadine should fall right to the bottom and then slowly rises, creating a distinctive red-orange color.
Garnish with a stick, straw and cherry or orange.
Tequila Sunrise

,