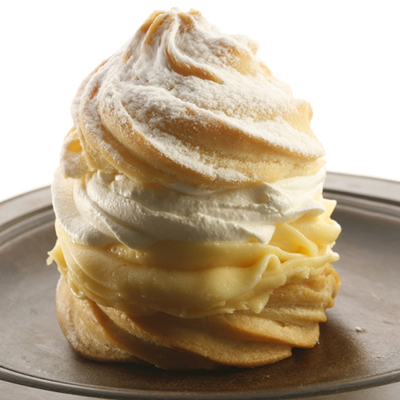 Ingredients :
6 eggs
Flour (The weight of 3 whole measured eggs)
Water (The weight of 3 whole measured eggs)
Fat (The weight of 3 whole measured eggs)
1 liter of milk
3 bags of vanilla pudding
300g of sugar
1 small bag of vanilla sugar
2 bags of whipped cream (Optional)
Donuts preparation :
First take measure of 3 whole and fresh eggs, and use this weight for measuring the flour, fat and water. Mix the water,  flour and fat into one cooking pan and cook it on the stove plate for about 15 min. until the mixture was separated from the pan bottom. Pour into this mixture 6 eggs, one by one,and constantly stir it,until the mixture reach the enough density (Almost like dough). Into an ungreased (Dry) casserole for baking of cookies put 2 soup spoons of this cooked mixture forming small balls and leaving some empty space between them,as they tend to grow up during the baking process. Up mentioned material quantity gives about 42 small balls of future donuts. So formed small balls in the casserole put into the warmed oven and bake it on the temperature of 1800C until the donuts were completely and well baked (ruddy colour, but watch not to over burn them), and until they become lifted up and crispy. Special warning is that during and to the end of baking, THE OVEN MUST NOT BE OPENED, as on the contrary, the donuts will stay dwindled . When the baking was finished pull out the casserole from the oven end leave it to be cooled off. The emptiness inside the donuts, when you cut them horizontally, shows how the baking process was successful.
Fill preparation :
Put into a cooking pan 1 liter of milk, 3 bags of vanilla pudding,200g of sugar and add 6 egg yolks, mix them and cook it until it starts to boil.
In the second bowl pour the 6 egg whites, add 6 soup spoons of sugar and whisk it well with the electric mixer until you get a hard egg whites foam.
Take off the cooked mixture from the stove plate and slowly add egg whites hard foam into it, mixing constantly.
Donuts filling :
When the donuts were horizontally cut, you can see that the inside space of a donut is empty and it is ready for filling. Fill in every lower donut half with the filling mixture. Optionally add on the top of the mixture, previously prepared, a spoon or two of well mixed whipped cream foam and close the donut with its upper half. Sprinkle the vanilla sugar over each donut and put them on the tray for serving. Enjoy!
Additional notes :
The princess donuts is exceptional dessert recipe for its special decorative look and its exceptionally luxurious taste provoking you to eat more and more. It serves as an extraordinary desert in various occasions like birthdays,parties,engagement and wedding ceremonies, Christmas and A New Year celebrations etc.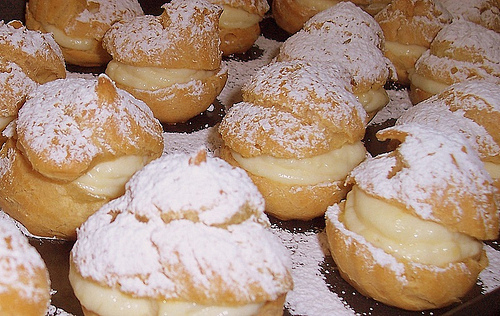 Princess donuts (Princes krofne) - Serbian Profiterole

,