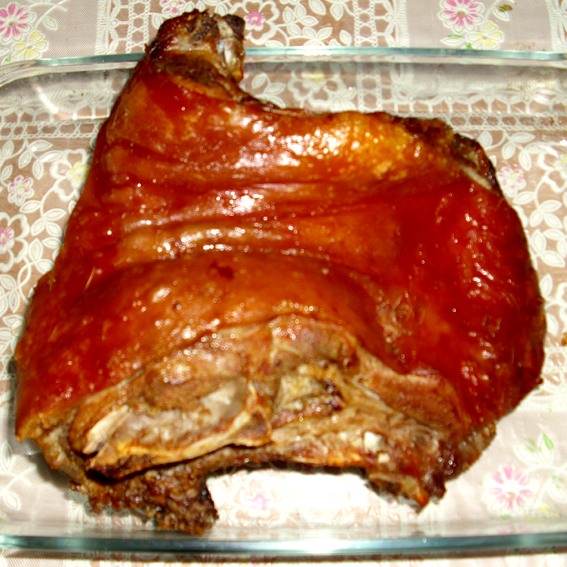 Ingredients:
2-3kg (a quarter of suckling pig-front upper  leg part with ribs, hoopless and headless)
1 full soup spoon of salt
2 whole soup spoons of pork fat
2-3dl of water
Preparation:
Sprinkle the salt only the inner side of a pig's meat, not outer side with skin.
Put this salty side of meat on the bottom of the oval roaster, and smear the skin (upper) side with two full soup spoons of fat.
Pour 2-3dl of water into the roaster, cover it with the upper roaster part (the roaster lid), and put the roaster into the oven.
Turn on the oven and start a roasting process on the temperature of 200 Celsius degrees for about 3 hours.
During the roasting, lift the roaster lid, from time to time, pierce the roasting pig's skin by fork on various places to enhance the lower meat layers roasting. Simultaneously, you can check if the meat was roasted and done when the roasting process comes near the end. At the same time, also check if the water was evaporated from the roaster, so you can add 50ml of water each time you lift the roaster lid, if you estimate it would be needed. Keep on with the roasting process until the meat becomes soft and the skin becomes crispy.

Oven roasted suckling pig (Prasece pecenje)

When the roasting was done, turn off the oven, take out the roaster, take off the roaster lid and leave the roasted meat for a while to cool off.

The roasted suckling pig cut to desired pieces and arrange them on the serving tray before serving. It could be served hot or cold as the main meal. Our best recommendation is to serve it with Russian salad as an contribution and with a glass of desired black, red or white wine according to taste. Although it could be consumed in various common or solemn situations, this tasty set of food and drink always brings the celebration feeling. Enjoy!

Oven Roasted Suckling Pig

,