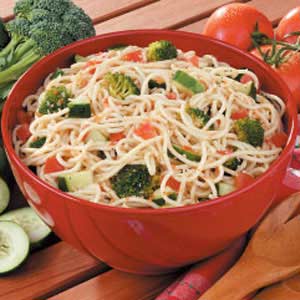 (refreshing salad that can be served hot or cold)
Ingredients:
300g spaghetti,
two young onions, chopped,
1 clove garlic, squeezed,
coriander leaves, chopped,
2 tablespoons of soy sauce,
3 tablespoons vinegar,
a little ginger,
2 tablespoons olive oil.
Preparation:
Cook spaghetti in salted, boiled water. As soon as it become soft drain and transfer to a large bowl.
While spaghetti is still cooking, mix all ingredients together except olive oil.
While spaghetti is still warm, mix it with salad dressing.
When the salad cool down, pour the olive oil, shake and serve.
Pasta Salad

,