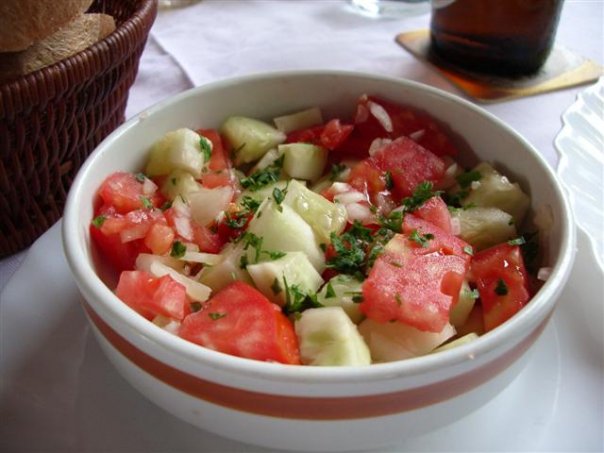 Ingredients:
500 g tomatoes,
150 g onions (young or mature),
200 g cucumbers,
1 hot pepper,
a bunch of parsley,
80 g oil,
salt to taste.
Preparation:
Clean and cut onions. If it is a mature onion, slice into strips, if the onion is young – cut into rings. Sliced onion, mature one, wash to remove the bitterness. At the same time crumple it a little.
Fresh cucumbers wash, peel and cut into rings or half rings. Wash tomatoes (choose only healthy, hard ones) and cut into pieces that are suitable for a fork prick. Cut peppers  into thin strips.
All combine with onions, add salt to taste and pour oil. Stir carefully to keep the whole tomato pieces.
Pour into a salad bowl and sprinkle finely chopped parsley.
Tips:
If you do not like hot peppers, you can substitute it with a regular sweet pepper. also cut into thin strips.
Notes:
If beside the word salad does not stands the name of ingredient of which it is composed, in Serbia all points to this salad. It is so present in a Serbian cuisine, from early spring until late fall, that all the other salads, that have also been prepared in Serbian cuisine are unmatched with this one.
Serbian Tomato Salad

,