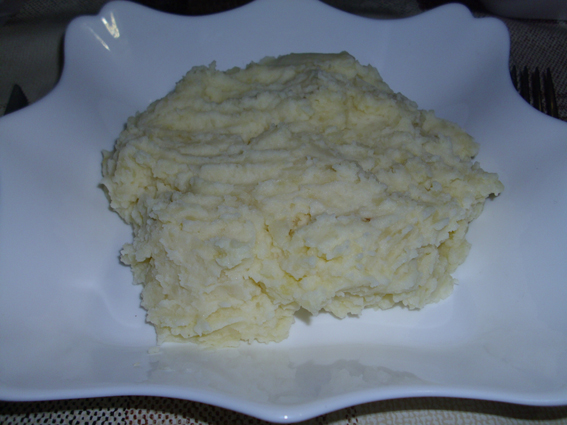 Ingredients:
1 kg of potatoes
200 ml(0,2 l) of milk
200 ml of sour cream
1 soup spoons of cooking oil
2 tea spoon of salt (or salt according to taste)
Preparation:
1. Wash and peel off potatoes, cut them to pieces (cubes) and put them into a cooking pan.
2. Pour into this pan enough water to cover all potatoes and add 1 tea spoon of salt.
3. Cook potatoes on the stove plate about 30 minutes until it get cooked (The fork goes through potatoes easily).
4. Take off the pan with the cooked potatoes from the stove plate, pour off the whole content of water.
5. Use some crumbling tool to crumble the cooked potatoes to make a squashed mass.
6. Add to the squashed mass 1 soup spoon of cooking oil, add 1 tea spoon of salt (or salt according to taste).
7. Now, add 200 ml of milk and whisk it all well.
8. Add 200 ml of sour cream. Whisk it well, also, and prepare domestic mashed potatoes for serving.
This is an old Serbian meal, tasty for all occasions and especially recommended contribution to many kinds of meat or main meals like: filled and baked peppers with sour cream, fried breaded steaks, fried breaded chicken meat pieces, fried duck meat pieces, fried pork steaks, fried fish etc.
Have a good appetite and enjoy!


Domestic Mashed Potatoes

,