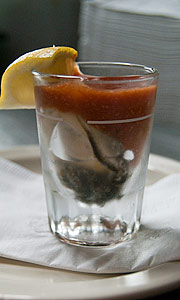 Ingredients:
1 oyster,
dash of red tabasco,
dash of green tabasco,
dash of cocktail sauce,
dash of horseradish,
1 once of vodka.
Preparation:
Place each oyster into a shooter glass.
Add tabasco and cocktail sauce to each glass, then add horseradish to taste.
Fill glasses to the top with vodka and have fun.
Oyster Shooter

,