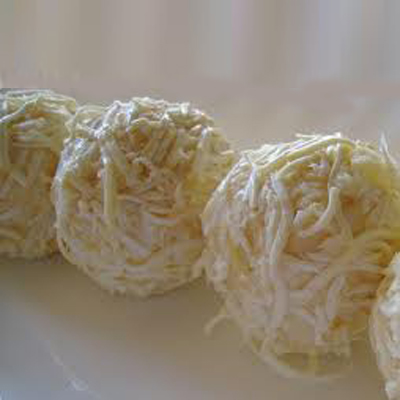 Ingredients :
500g white chicken meat
200g feta cheese (or any kind of soft cow cheese)
4  cooked eggs
50-70g ham
100g of grated hard cheese (Gouda or trappist cheese)
Preparation :
Cook white chicken meat in a mild salty boiling water for about 15 minutes. When the white chicken meat was cooked, decant it, leave it to cool off and grind it to small pieces with the grinder. Into the deeper bowl put the ground white chicken meat, add hard cooked eggs cut to the small cubes, knead feta cheese or the other kind of soft cow cheese and add 50-70g of ham cut to the small pieces. Whisk it well to get a compact and dense mixture. To make cheese balls, take a small quantity of this mixture and, with the wet palms form each ball and roll it in the grated hard cheese, getting very nice and tasty ragged cheese balls. The size of the balls depends on someone's taste. Decoration and arranging of cheese balls for serving could be done with the paper baskets (optionaly).
This is a very quick recipe, but you get very delicious and tasty product for a very short time without frying. It could be served in various occasions like: parties, birthdays, weddings, engagements, family celebrations etc., as an appetizer before or with the main meal. Enjoy this delicious recipe with our great recomendation.

Cheese Balls

,