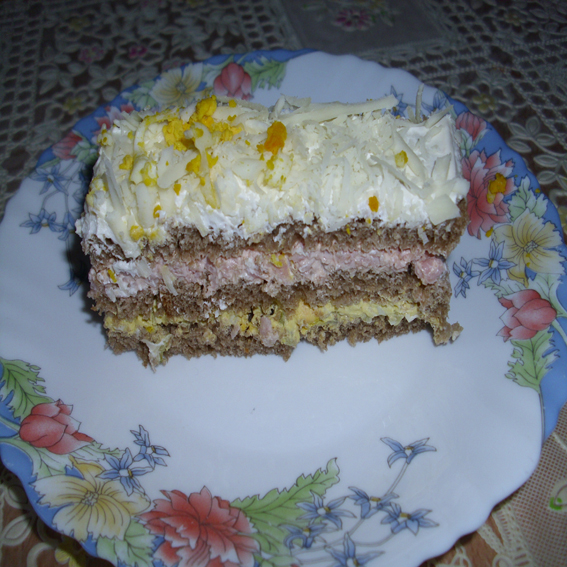 Ingredients:
2 packs of  black toast bread
250 g of sour cream
250 g of ham
200 g of cheese
300 g of mayonnaise
4 pieces of boiled eggs
5 pieces of pickled gherkins
Salt according to taste (up to 1 tea spoon)
Optionally, 1-2 sticks of boiled carrot for decoration
Preparation:
Prepare appropriate tray where to create, set up and arrange this (no baking) salty cake.
At first, make 3 different mixtures (fills) into the 3 separate vessels.
The first filling make by mixing 100 g of mayonnaise, 80 g of sour cream, 250 g of finely chopped ham and 3 pickled gherkins cut or shredded to very small pieces.
The second filling make by mixing 100 g of mayonnaise, 80 g of sour cream, 150 g of grated cheese and 3 pieces of grated boiled eggs.

Salty cake with black toast bread (Slana torta sa crnim tost hlebom)

The third (outer) filling make by mixing 100 g of mayonnaise and 80-90 g of sour cream.

Before the toast bread sorting on the tray, carefully cut and remove the outer toast brad's crust.
The first layer of the black toast bread, sorted in a row on a tray, cover with the first filling (mayonnaise, finely chopped ham, and small cuts of pickled gherkins).
Then put and arrange the second toast bread layer over the first filling, smear and spread the second (middle) filling (mayonnaise and sprinkle with 150g grated cheese and 3 pieces of grated eggs).
The third black toast bread layer goes on the top (over the second filling), which should be coated (the top and all sides) with the third filling mixture (mayonnaise and sour cream), sprinkled and decorated with 50g of finely grated cheese and 1 grated boiled egg.
As an option, it could be garnished with 1 shredded pickled cucumber and decorated with flower shapes of boiled carrot.
This is really tasty appetizer, mostly served before the main meal. An experience tells that this kind of salty cake mostly was more praised by consumers than some main meals. Extraordinary delicious recipe, served in many occasions like birthdays, weddings, solemn celebrations, Christmas, Easter etc. Our best recommendations. Enjoy!

Salty Cake with Black Toast Bread

,