Dough ingredients: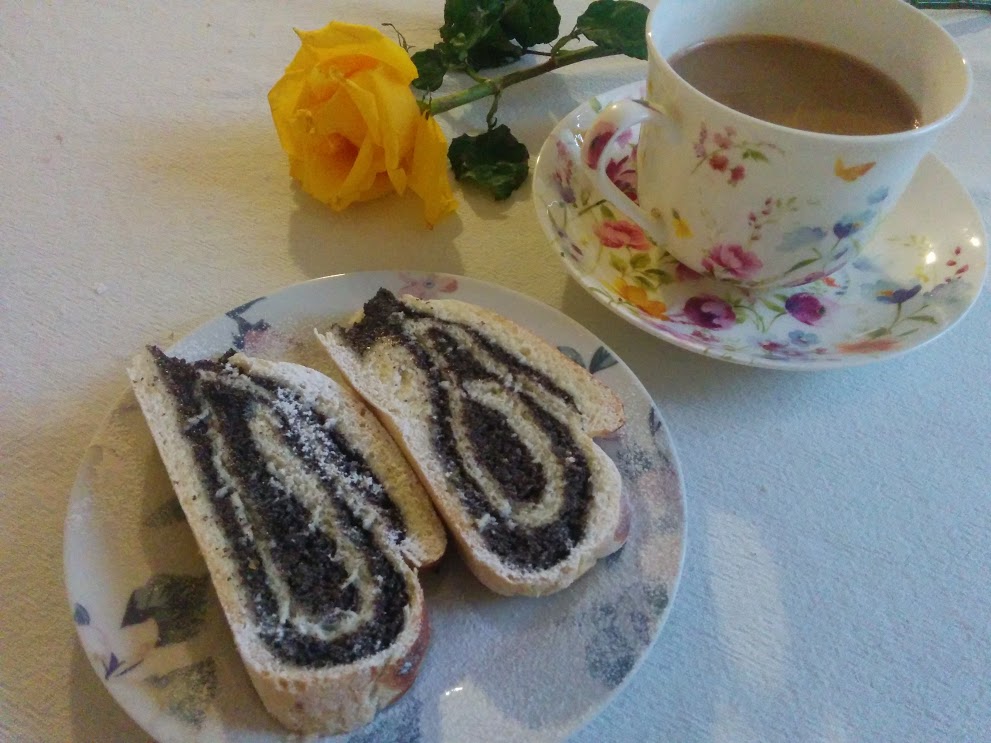 800 grams of all purpose flour
40 grams of active yeast
1 tbsp of sugar
a good pinch of salt
4 deciliters of lukewarm water
2 tbsp of vegetable oil
1 tbsp of orange marmalade
Filling ingredients:
600 grams of ground poppy seeds
6 deciliters of milk (I used almond milk, but any other vegetable based milk would be good)
6 tbsp of sugar (taste the filling when it's cooked and add more if you prefer it sweeter)
lemon zest of 1 lemon
Preparation:
Mix poppy seeds with 6 spoons of sugar, lemon zest, and milk.
Cook the mixture on medium heat for about 10 minutes, until it thickens up.
When it's cooked, leave it to cool while you're preparing the dough.
Mix yeast with 1 deciliter of lukewarm water and 1 tablespoon of sugar in a small bowl. Let it sit until the yeast starts to grow.
Sift flour into a bowl but leave about 100 grams aside. Add salt to the sifted flour. Pour yeast mixture into the flour and stir adding the oil and the rest of the water to make dough. Add more flour if it's too soft. It should have the consistency of bread dough. When it's combined start kneading it with your hands until it becomes smooth and silky. The longer you work the dough, the better.
When your dough is well kneaded, put it in a bowl, cover it with a cloth and put it in a warm place.
When the dough expands and doubles in size, cut it in 2 halves.
Knead one half of the dough, and roll it into a rectangle. The width of the rectangle should be the length of the pan in which you'll be baking it. Spread half of the poppy seed filling over the rectangle, leaving a small border at the end. Roll the dough with poppies and place it in your baking pan.
Repeat the same procedure with the other half of dough and poppy mixture.
Mix marmalade with a spoon of water and use that to glaze the dough.
Let the dough sit in the pan until it starts rising and then place it in a preheated oven to bake for about 40 minutes at 200 degrees celsius. Baking time might vary in different ovens. I started checking if the rolls were baked after 30 minutes.
When the rolls become golden brown, remove them from the oven and cover with a kitchen towel until they are cool. This will help keep the crust soft.
Dust slices with icing sugar when serving.
Preparation Steps
Vegan Poppy Seed Roll

,