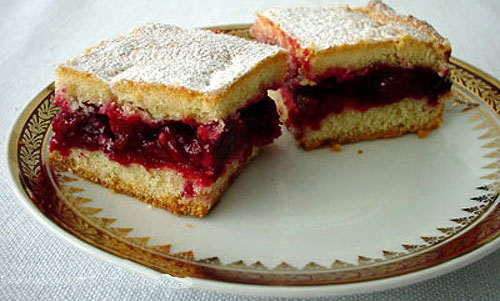 (enough for 4 people)
Ingredients:
200 g margarine,
100 g lard,
400 g sugar,
4 eggs,
2 cups of milk,
600 g flour,
1 sachet of baking powder,
vanilla sugar,
1 kg sour cherries.
Preparation:
Stir together 200 g of margarine and 100 g of lard, add 10 tablespoons of sugar and 4 egg yolks and continue stirring well.
Add 2 cups of milk, 600 g of flour mixed with a baking powder and vanilla sugar. Knead the dough.
Put more than half of dough in greased baking pan, then well beat 4 egg whites with 6 tablespoons of sugar and pour over the dough in the pan. Add 1 kg of sour cherries to all of that.
Spread the rest of the dough to form the crust that fit pan shape and place it over filling.
Place the pie into the medium heated oven and bake until the crust is golden brown.
Sprinkle powder sugar over warm pie.
Notes:
This is the same recipe as  lazy apple pie, and lazy walnut pie, the only difference is that instead of apples and walnuts, we are using sour cherries for filling.
Lazy Sour Cherry Pie

,