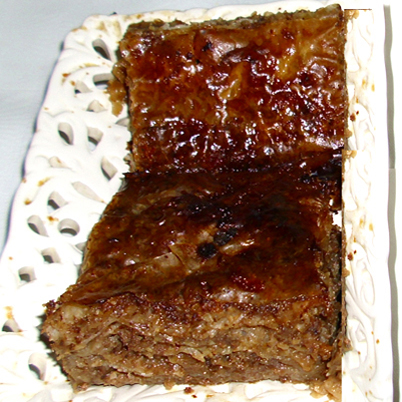 Ingredients :
250-300g of ground walnuts
4 eggs
2dl of water
2dl of cooking oil
2 x 200g + 1 x 500g of sugar
200g of sour cream (instead it could be used the same measure of jogurt or a cold milk)
1 small bag (10g) of baking powder
1 small bag (10g) of vanilla sugar
600g (1 pack) of thin crust for cheese pie
Mixture 1 :
In one bowl mix 4 eggs, 2dl of water, 2dl of cooking oil, 200g of sugar, 200g sour cream and 1 small bag of baking powder, and whisk it well WITHOUT COOKING.
Mixture 2 :
In a second bowl make mixture of 200g of sugar and 250-300g of ground nuts (half of it finely ground nuts with a grinder and the other haf finely ground nuts with a knife).
Mixture 3 :
In a cooking pan pour ½ liter of water, add 50g of sugar, 1 small bag of vanilla sugar and cook it on the stove plate for about 20 minutes.
Preparation :
Sort, layer by layer, thin crust for cheese pie into a cassrole arranging each layer to be coated with the mixture 1 first, and mixture 2 over it. When you reach to the top, the last thin crust layer should be coated only with the mixture 1. Cut to the bottom, with the larger knife, vertically and horizontally rows, thus forming the future pieces of baklawa. Put it into the oven and bake it on the temperature of 1800C until the upper surface become well baked (brown coloured). After the baking was finished, pull out cassrole from the oven and slowly baste (pour over) the whole top surface of baked baklawa with the mixture 3 until it was well soaked. When the mixture was well soaked, leave the baklawa to be cooled off on the room temperature. After that, the baklawa is ready for serving. It's very tasty even if you keep it in a refrigerator.
This is one of the best baklawa recipes ever. It could be served as a very delicious extraordinary dessert in various occassions: birthadys, parties, engagement, wedding ceremonies, Christmas and A New Year celebrations etc.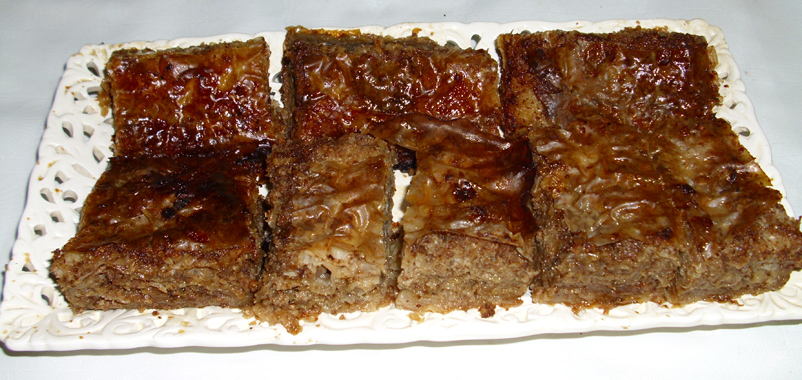 Grandmother's Baklawa (Bakina baklava)

,