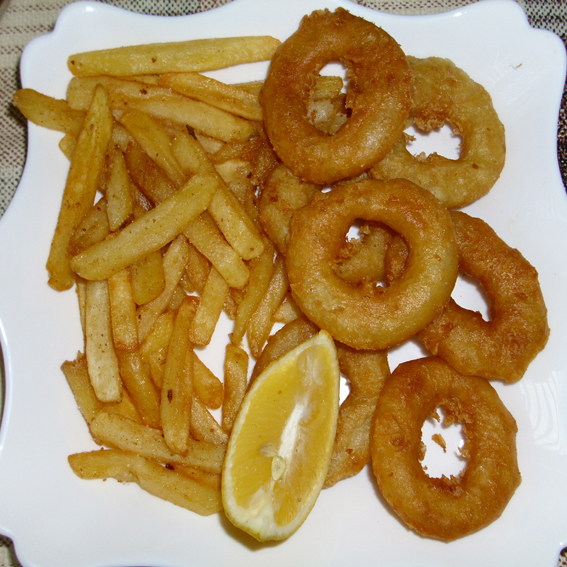 Ingredients:
1/2kg of frozen or fresh squid, cleaned, washed and cut to ring pieces
1/2 l of cooking oil
200g of flour
1 full soup spoon of ground red peppers (powder)
1 whole piece of lemon cut to the longitudinal or cross-cut ring slices
salt according to taste
Preparation:
Pour 1/2 l of cooking oil into a sauce pan, turn on the stove plate to the temperature of 180 Celsius degrees and warm up the oil.
Roll on the cut squid rings into the flour and red peppers powder mixture, lower the frying temperature to 150 Celsius degrees and fry squid rings into the hot oil for about 5-10 minutes until they get a roasted color.
Take out roasted squid rings from the oil, put them for a while on previously prepared tray with paper napkins to absorb some oil.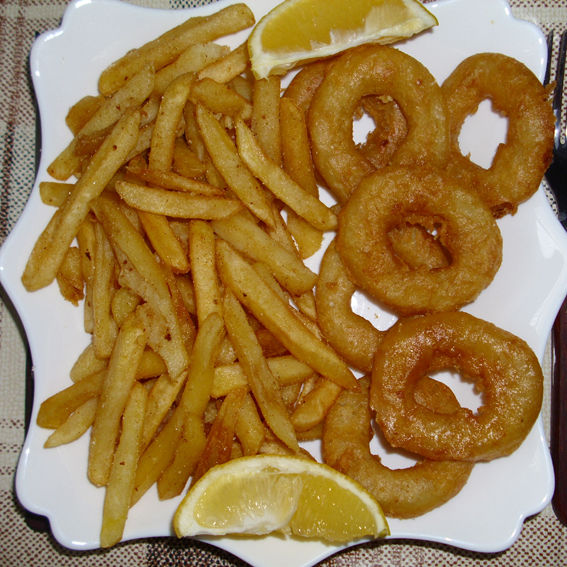 Arrange fried squid rings on a serving tray with the cut lemon slices and serve them hot with the french fries as an contribution. This is a very tasty and delicious sea fish meat and could be served in various celebrating or common family occasions, Christmas, solemn or common weekend lunch etc.
Have a good appetite and enjoy!

Fried Squid Rings

,