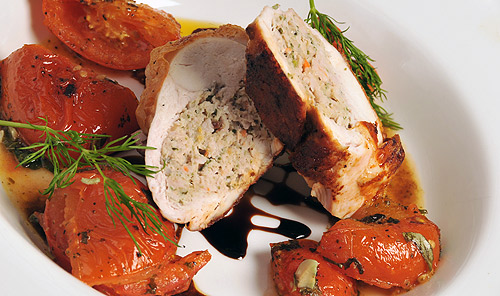 Ingredients:
500 g smoked cod fillets,
2 flat tablespoons of flour,
olive oil,
1 onion, finely chopped,
2 cloves garlic, smashed,
500 g tomatoes,
1 tablespoon Worcester sauce,
500 g young potatoes,
parsley,
salt,
pepper.
Preparation:
Immerse tomatoes for 1 minute in boiled water, then peel and cut it. Fry onions and garlic in a pan, add chopped tomatoes and fry for about ten minutes on medium heat. Make Worcester sauce and spice up to your taste.
Put the potatoes in the pan and add as much water to be immersed to half. Cook over low heat about 25 minutes. Crushing them slightly with a spoon and cook until water evaporates.
Divide fish into 4 portions and immerse it in a little flour. Heat a few tablespoons of oil and fry fish for about 10 to 15 minutes.
Cut the parsley and add it to the potatoes.
Serve with the young green beans. Bon Appetite!
Smoked Haddock with Potatoes and Tomatoes

,