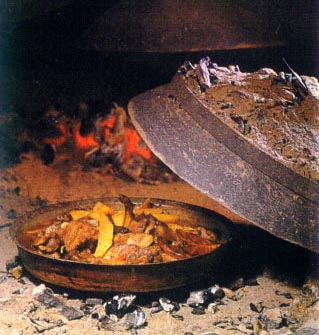 Ingredients:
2 kg pork all in one peace,
2 kg beef all in one peace,
500 g lean bacon,
1.5 kg potatoes,
6 fresh tomatoes,
6 bell peppers,
5 onions,
12 pickled cucumbers,
100 g salted almonds,
10 tablespoons of dried vegetable seasonings,
200 g cream,
2 dl oil,
3 dl water,
salt and pepper to taste.
Preparation:
Marinate the meat with 200 g bacon cut in sticks and rolled in a coarse ground pepper. Also, cut the pickles into sticks and together with salted almonds marinate meat.
Peel potatoes and cut in half. Also, cut in half tomatoes, bell peppers and onions.
In a large casserole, which you'll put under the ember, put in the middle marinated meat well rubbed with salt, dried vegetables spice and pepper. Mustard spread on meat. Around put potatoes, onions, tomatoes and bell peppers. Add salt and pepper to taste.
Meat overlaid with sheets of bacon, potatoes and put through the thick cut bacon. On top sprinkle cream nuggets. All pour with oil and pour the water.
Baking pan put under the heat-treated ember. Cover with ember and bake 2 hours.
Notes:
Serve with warm bread.
Gročanski sač - Pig in an Iron Pan Covered with Ember

,