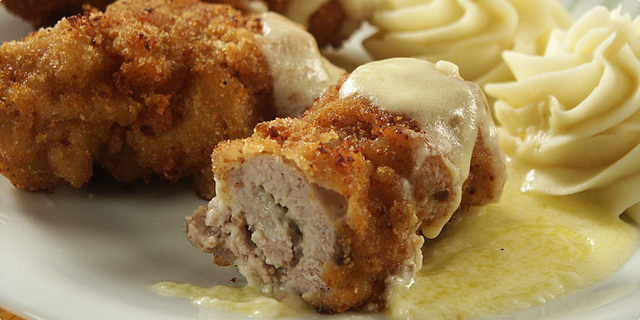 Ingredients:
500 g boneless pork steaks,
150 g kajmak (Serbian creamy dairy product) – you can use some cream cheese instead,
2 eggs,
flour,
bread crumbs,
salt.
Preparation:
Pound pork steaks untill they are thin and soft and on each steak put a little kajmak (or cream cheese).
Wrap the meat into the rolls and secure each piece with a toothpick.
Coat the steaks in the flour, then dip them into beaten eggs and finally roll in bread crumbs.
Fry in hot oil untill golden yellow.
Notes:
This steak is sometimes called jokingly "maidens' dream" (devojački san), because of its shape.
Karadjordje's Steak (Karađorđeva šnicla)

,