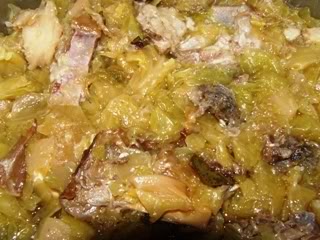 (for a lot of guests – great events)
Ingredients:
4 kg of pickled cabbage,
300 g pork,
300 g beef,
300 g lamb meat,
300 g sausage,
500 g of spareribs,
200 g cracklings,
400 g lean bacon,
salt and pepper to taste,
2 tablespoons cayenne pepper.
Preparation:
Cut the cabbage in larger pieces.
Cut meat into smaller pieces and salt it. Do not mix meat.
Wash spareribs in lukewarm water.
In the larger pot (or crock) of 5 liters put at the bottom few sheets of dry bacon then add layers by following order: cabbage, pork, cabbage, sausage, cabbage, beef, cabbage, spareribs, cabbage, lamb meat, cabbage, bacon, cabbage, cracklings, cabbage. At top put the bacon cut on sheets again, and a few solid leaves of cabbage.
In the gallon of water mix salt, pepper and cayenne pepper, and pour cabbage.
Add water to cover ingredients.
Place the cabbage on a moderate heat to cook slowly. Do it four days, two hours every day.
Serve warm with hot pone.
Monkish Cabbage (Kaluđerski kupus)

,