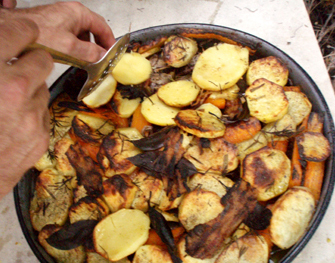 Ingredients:
500 g butter,
1 kg tomatoes,
1.5 kg of meat (beef, veal or lamb),
1 kg onion,
1.5 kg of fresh pepper,
5 laurel leaves,
salt and pepper to taste.
Preparation:
In large clay pan put in layers: butter cut into slices, onion cut into rings, meat cut into smaller pieces. Then cut tomato into slices and pepper in half.
Between each layer put a laurel leaf and salt and pepper to taste.
Bake uncovered 3 hours at the temperature of 180 Celsius degrees.
Remove the first layer of roasted peppers (which is used as a cover).
Pršulja

,