Ingredients :
White middle sized beans ( 120g per portion – 1-1,2kg of beans for 10 persons).
Dry bacon cut to military standards size 5,5×6,5×1,0 cm thickness (it must not be hard bacon like pancetta or hambourg bacon) – 60g per portion – 600g for 10 portions.
Beef as for stew (Must not be dry beef and it has to be melted in your mouth when it was cooked. Preferably use the soft piece of beef) – 60g per portion – 600g for 10-12 portions.
Sausages (optionaly dry deomestic chilli sausages) 600g for 10-12 portions.
Onions middle sized bulb – ½ of the bulb per portion – 5 bulbs of onions for 10-12 portions.
Garlic – ¼ of clove per portion – 2-3 cloves of garlic for 10-12 portions.
Carrots – 1 average sized piece of carrot per portion – 10 pieces for 10-12 portions.
Parsley – 1 soup spoon of finely chopped fresh parsley for 5-6 portions. 2 spoons for 10-12 portions.
Ground red peppers (not hot) – 1 soup spoon for 10-12 portions.
Ground red hot chili peppers according to taste.
Ground black popper according to taste.
Dry spice (Vegeta or Spice "C" in Srbia).
Tomato puree – 3 full soup spoons per 10-12 portions
White wheat flour – 1 full soup spoon per 10-12 portions.
Cooking oil (optionaly 1-3 soup spoons).
Preparation :
Step 1 :
Into the cooking pan put the exquisite white beans (cleaned of dirt and washed), pour the cold water over it and leave it to stay submerged for a few hours to swell.
Step 2 :
Put another deeper cooking pan on the stove plate to get warmed and add bacon first, to dissolve grease and then add the meat and sausages (optionaly), onions cut to narrow bar pieces, garlic finely chopped and carrots cut to narrow rings. Whisk that all and cook on the moderate temperature (not too strong). In case that the bacon is so dry, add a little (one soup spoon ) of cooking oil and the popper according to taste. When the meat becomes already cooked and soft enough add drained white beans, a dry spice (vegeta or spice "C") according to taste, 2 soup spoons of tomato puree (one soup spoon of tomato puree leave for the next step of making browned flour), pour cold water into it and cook it on a moderate strong temperature. The cooking duration depends on how old are white beans. Older beans need more cooking time. You should know if the beans are cooked when beans begin to decompose and the liquid becomes dense.
Step 3 :
Making of browned flour :
Into separate cooking pan pour a little cooking oil and one soup spoon of flour and cook it on the stove plate until it becomes dark brown. Then add one soup spoon of ground red peppers (not hot), and the ground red hot chilli peppers according to taste, whysk it constantly antil it gets dark red colour. Then add one soup spoon of tomato puree, whisk and cook it all about 5-10 minutes. After that, pour this into the pan with cooking beans, whisk it well, add a little finely chopped garlic, 2 soup spoons of parsley, cook it for a while on a low heat. Cooking on a low heat is significant for an union of all ingredients. When the cooking was finshed, take off the cooking pan from the stove plate, put the pan pot on and leave it for a while to cool off.
Serve it warm with fresh bread and with various types of salads like : grated fresh or pickled cabbage salad, roasted peppers with garlic and vinegar, pickled cucumbers, all kinds of tomato salads, turshia etc. As drinking contribution to this great recipe, the beer, juices and even wines would be fine.
Additional notes :
The Serbian soldierly beans recipe is preferably preparing for many persons, a few or more families and friends at the picnic in nature or camping, although it is very delicious and tasty when it was prepared at home. Also, it is common to use the cooking bucket or tub for preparing this recipe somewhere in the nature or in a yard using wood for making fire. That kind of "slow" fire makes the cooking process longer. Sometimes, the cookong starts early in the morning and lasts until the lunch time, but the result is unbeatable. Probably, the secret of  that legendary taste lies in long time cooking for more consumers. It could be warmed up the next day or the next few days, becoming even more delicious, if kept in the proper place. So, "people soldiers", have a good appetite and ask for more!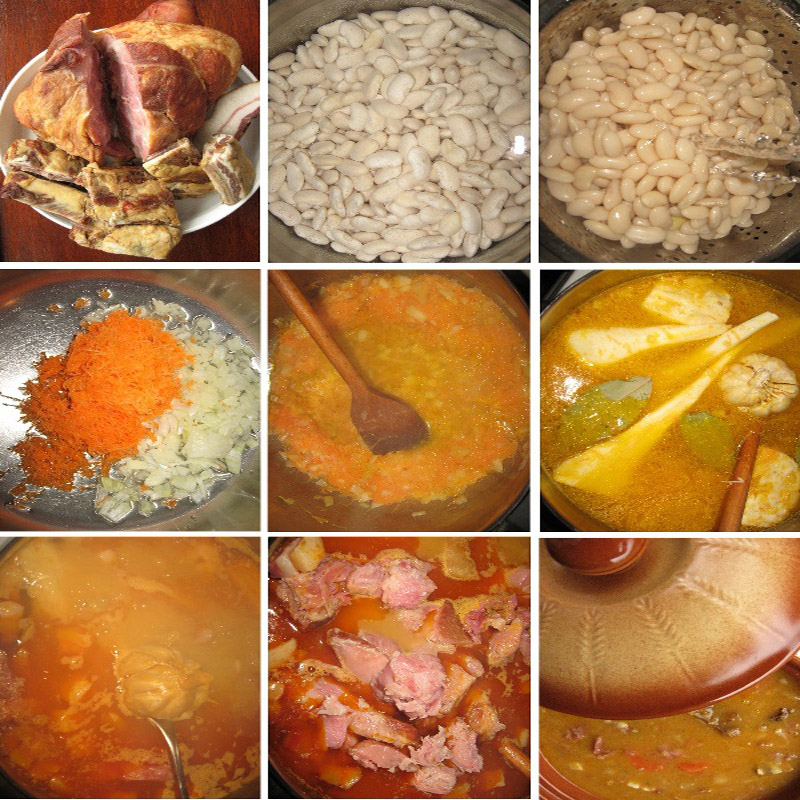 Serbian Soldierly Beans

,