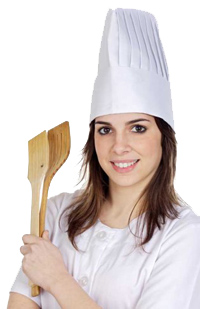 In this section you can find a lot of useful tips for your kitchen.
Listen to the advice of our host that you stay in your kitchen can make it much easier and more interesting.
There are various home cooking advices and methods that you can choose to cook the food that provides nourishment for your family, and gives you energy to perform many tasks throughout the day. Some people do not know the first thing about cooking. All they know is in some cases heat is required to make it edible and that the stove is used as heating source.
As most readers will know, I love cooking. I am a fanatic when it comes to doing things "perfectly" in the kitchen and have, consequently, read everything I can get my hands on about cooking. I am an amateur, but at least I am a reasonably well informed amateur!
This section is a guide to help save you from some of the most common cooking errors we all make.
CHEF Advices

,