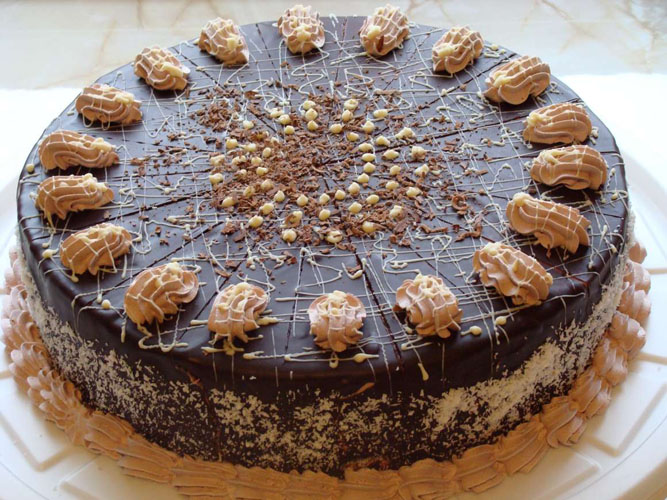 Crust ingredients:
125 g butter,
60 g cocoa powder,
2 eggs,
250 g sugar,
1 teaspoon vanilla flavor,
120 g flour,
flat spoon baking powder.
Fill ingredients:
2.5 dl milk,
2.5 oz cream,
200 g sugar,
100 g white chocolate,
4 tablespoons flour,
2 egg yolks.
Frosting and decoration ingredients:
200 g hazelnuts,
150 g sugar,
200 g cooking chocolate,
2 tablespoons milk,
50 g butter.
Preparation of crust:
Melt butter and add cocoa and mix everything well.
Whisk eggs and sugar, add vanilla and cocoa flavor with butter.
Add filtered flour and baking powder, slowly pour in the rile and oiled round mold.
Incinerator at a temperature of 180 degrees about 40 minutes.
When the roasted extract to cool slightly then remove from molds and wrap in aluminum foil and leave overnight in the cold.
Preparation of fill:
Whisk egg yolks with sugar and add flour and some milk. Whisk to get a smooth mass.
Pour the boiled milk and cook until the money is not the cream thickens.
Add chocolate, remove from oven and rile until the cream is not cool.
In a completely cooled add cream mixed cream.
Directions:
Cut crust into 4 layers, coat the entire cake and ice cream.
In a separate bowl to put the sugar melted and yellow, add the hazelnuts and mix until it receives a golden caramel color. Coarse grind.
Melt chocolate, add milk and butter, and smear it on the greasy paper in thicker layer.
When the plane was cured broad knife.
Sprinkle the cake with nuts and garnish the top surface of the chocolate rolls.
Chocolate Cake

,