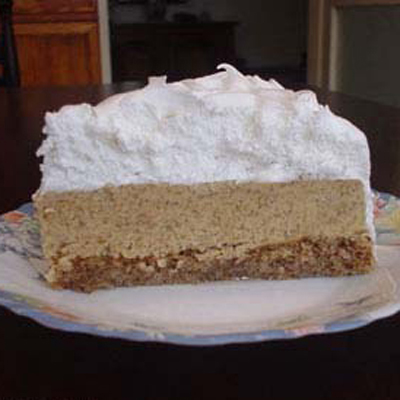 Ingredients:
6 eggs
200g of sugar + 12 soup spoons of sugar
6 soup spoons of flour
1 soup spoon of bread crumbs
1 l of milk + 2 dl milk
200g of ground nuts
250g of butter
3 bags of vanilla pudding powder
3 bags of whipped cream powder (100g-120g)
Grated chocolate (optionally according to taste)
Preparation:
Crust preparation:
Whisk and make a solid foam of 6 egg whites with 6 soup spoons of sugar. Separately, whisk 6 yolks with 6 soup spoons of sugar and mix these two mixtures together adding 6 soup spoons of flour and 1 soup spoon of bread crumbs. Whisk it all well, and pour into the round cake baking mold (It could be used some deeper round baking pan). Bake it in the oven about 25-30 minuteson the temperature of 180 degrees. When the baking was finished leave the baked crust to be cooled off, and then scoop out the crust (Round outer and lower part of the crust should have the thickness of about 3cm). The rest of the  scooped out crust, crumble to small pieces and leave it aside which will be used during the filling mixture preparation.
Cream preparation:
In a cooking pan pour 1 liter of milk, put in 3 bags of vanilla pudding powder and add 200g of sugar and grated rind of one whole orange (Someone is adding optionally the juice of this orange to enhance the taste of orange). Mix it well and cook it on the stove plate about 10 minutes. Leave it to cool off, and add 250g of ground nuts, 250g of butter and whisk it all well into a foamy mixture. Then, add crumled small pieces of scooped out crust and mix it well.
Cake preparation:
Into scooped out crust base spread the thick layer of the cream mixture. Up on this cream mixture put, previously prepared, a solid whipped cream foam made of 2-3 bags of whipped cream powder well mixed with the 2 dl of cold milk. Form the cake and optionally pour the grated chocolate over it according to taste. Keep it in refrigerator and serve it cold.
The Vasa's cake is very old and legendary Serbian recipe since the year 1908 and represents one of the best and tastiest cakes ever. One crust layer and two different cream layers make this cake very rich on the eyesight, but not even to talk about the taste. Served in the most solemn occasions like: engagements, weddings, anniversary birthdays, Christmas, Easter, New Year celebrations etc.

Vasa's Cake (Vasina torta)

,