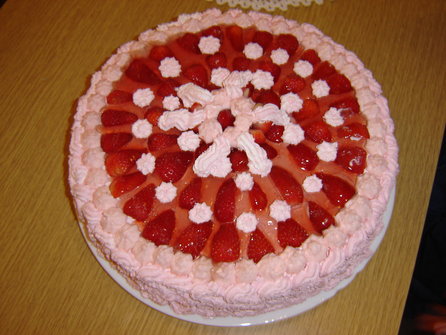 Crust ingredients:
6 eggs,
1.6kg of sugar,
200g flour,
50g butter,
lemon peel.
Fill and decoration ingredients:
about 1/2kg of strawberries,
1kg sugar,
30g cream.
Preparation:
Whisk the yolk foam, with sugar, add grated rind of lemon, melted butter, gradually add flour and hard snow at the end of the egg whites.
Gently mix all, pour forth and sprinkle in the flour mold and bake at medium temperature for 30 minutes.
Meanwhile make the stuffing: strawberries in half and put in a crushing two thirds involved cream.
The other half of the strawberry is clear from the stalks, drain the water and sprinkle with cognac or brandy.
Cut cake horizontally spreads strawberry cream, and all the rest involved cream coatings and decorations prepared strawberries.
Strawberry Cake

,