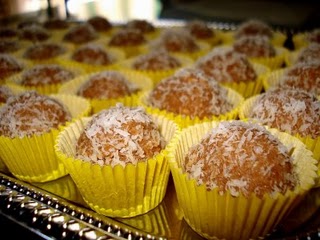 Ingredients:
200g almond,
2 pcs. egg yolks,
coconut flour,
cocoa,
1 shot rum,
100g powdered sugar,
200g chocolate.
Preparation:
Grind unpeeled almonds and then chocolate.
Mix almonds, chocolate, powdered sugar, egg yolk and rum.
Make a smooth dough.
Form balls of 2cm in size and roll them in coconut and chocolate crumbs or cocoa.
Chocolate Balls (Čokoladne kuglice)

,