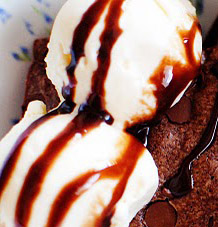 Ingredients:
8 balls of ice cream,
150g flour,
120 g candied fruit,
1 sachet of vanilla sugar,
100g powdered sugar,
1dl raspberry juice,
lemon peel,
100g butter,
4 eggs.
Preparation:
Good mix butter with sugar, add egg yolks, flour and chopped candied fruit, citrus crust.
Pour into eight ring mold (with the fat spread on them) and bake for 20 minutes at 200°C.
Chilled cakes put on plates, pour the juice from the raspberries and put the ice cream on every ball.
Girls' Ring (Devojački prsten)

,