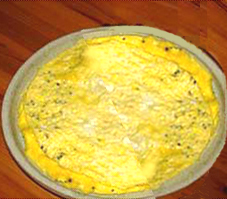 4 eggs
150g of cow milk cream
4 soup spoons of flour
100ml of cooking oil
Salt (according to wish and taste)
Preparation :
In a separate bowl put 4 eggs, 150g of cow milk cream, 4 soup spoons of flour and whisk it well. Put the frying pan on the stove plate, pour 1dl of cooking oil and warm it up. Then, pour the whisked mixture from the separate bowl into the frying pan with the warmed cooking oil and fry it about 5-6 minutes with stiring at times. Salt could be added according to taste. When the frying was finished, shepherd's scrambled eggs could be served for breakfast with an addition of bacon, ham, mushrooms, ajvar, fresh tomato, tomato sauce, parsley (as an decoration) etc. A very delicious and special taste of this breakfast meal mainly depends on the cow milk cream. Our hot recommendation and have a good appetite.
Shepherd's Scrambled Eggs

,