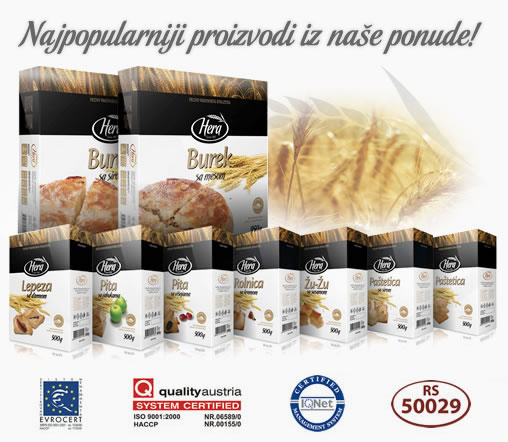 For those in United States, European Union and Russia who haven't tasted traditional phyllo pastry Balkanian meal called "Burek" and for those who have and are not always able to find some South Eastern European bakery in their neighborhood and enjoy it, now there is alternative way how to bring this and some other popular pastries from Serbia to your kitchen table. Frozen pastries from Serbia are now available in local stores in several countries of EU, Russia and in the United States.
Serbian family baking factory "Hera" Ltd. from Gornja Trnava, Prokuplje (South Serbia) got all certificates and started export of their frozen bakery products to the United States. The have already covered markets of Russia and several countries of European Union.
Some of their available product in foreign markets are:
Burek with Apple, Cheese, Potato, Spinach, Sour Cherry, etc.
Whole-Wheat Pasty
Sour Cherry Pie
Jam Turnoveer, etc.
We all agreed that fresh baked pastry tastes better than pre-baked frozen pastries, but in case that we are not able to buy it in a bakery or prepare by ourselves, it's good to have an alternative.
Serbian Burek Now Available in U.S. Stores

,