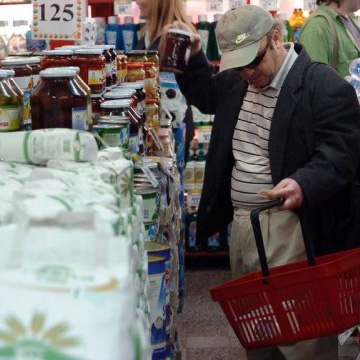 Serbs more and more of their income left in food stores. The food is as much as 41.2 percent of monthly income and that the recorders in this part of Europe.
Only Macedonians are worse than Serbia. Total expenditures for food and paying utilities, the average family in Serbia amounted to dinars 45800 (450 EUR).
The biggest costs still is food, you should set aside an average of 18,806 dinars (180 EUR). About 17 percent or 7,807 dinars went to pay for utilities.
Unlike the Serbs, for personal consumption expenditures in the European Union amounted to an average of 15 percent of total revenues, while in Serbia the costs are almost three times higher, because a much smaller are serbian income. In the region in a better position than we are Montenegrins (37.6 percent) and Croats from 32.1 percent.
"Most earnings still goes to buy food and drinks, which shows that the food here is unacceptably expensive for the average pocket and the purchasing power of consumers," says Peter Bogosavljevic, president of the consumer movement.
If we know that in the past year, almost all at least a third of Increase in food price, and simultaneously, we have to spend considerably less money, it means that we are in big trouble. And that was considerably reduced standard of living.
"Households in the final quarter of last year, a month disposed of 48,426 dinars (about 480 EUR), which is 10 percent less than last year at this time", according to a survey on household consumption of the Statistical Office.
Otherwise, the largest share of monthly income consists of wages (42.7 percent), more than a third of the pension income (35.5 percent), which is not surprising considering the fact that Serbia is an aging country. The rest consists of income outside of employment, social benefits, grants from abroad …
Regarding the structure of personal consumption, the food and soft drinks in central Serbia households spent 42.7 percent of total revenue, 37.8 percent in Vojvodina.
On housing, water, electricity, gas and other fuels Serbian households on average spent 17 percent of total expenditures, 16.2 percent of the city of Belgrade and Vojvodina 17.6 percent.
Imbalance
The high share of expenditures on food, which in our market for years varies between 39 and 41 per cent, economists explain the discrepancy between average incomes and the food price.