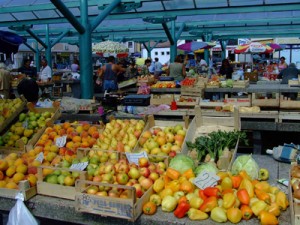 BELGRADE – The green and wholesale markets in Serbia last week was mostly peaches and nectarines, which were sold at old prices, while the apricots become a little more expensive because the offer is weaker and weaker.
Last week, compared to the week before, recorded a better supply of early apples, pears and plums, whose prices have been in slight decline. Worse was the supply of raspberries, blackberries while more and more.
Of grapefruit you will have dominated the banana and lemon, whose prices stagnate, published on the website of agriculture market information system of Serbia.
Prices of other vegetables are either the same or are reduced compared to the week before, and the best bid was the "Qantas' market in Belgrade.
Offers green beans and celery was above average and vegetables are usually sold at old prices.
Supply and demand melon was excellent, the price that was reduced by an average of 10 dinars per kilogram, and a similar situation was with the watermelon, which is the price compared to the previous week was five to ten dinars per kilogram less.
Offer cucumber salad was average, price was 20 percent higher, while the potatoes were offered at most locations and prices are mainly unchanged from the previous period.
At some wholesale and green markets recorded a tender young black and white bow, and was a very good offer of pepper and tomato, which has led to falling prices, and the bell was cheaper by 20 serbian dinars per kilo, and tomatoes for 10 dinars per kilo .
Prices of other vegetables were not significantly changed, and the supply was generally satisfactory.