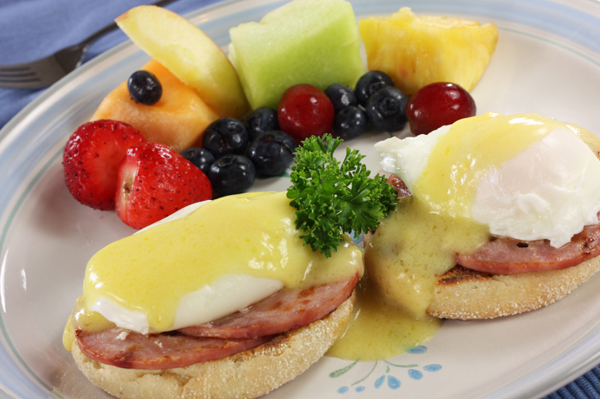 Ingredients:
6 eggs, very fresh,
12 thin pieces of bacon, pork neck or ham, grilled or baked in a pan,
6 round pieces of bread (or toast),
little butter.
Holandez sauce ingredients:
2 large egg yolks,
teaspoon lemon juice,
teaspoon vinegar,
100g butter,
salt and pepper.
Preparation:
Poached eggs: You'll need a bucket of water and boiled for drainage, with holes. Place pan on a quiet fire and cooked, add enough water to the pan to be about 2-3 cm. When you begin to form small bubbles carefully break the egg and leave it exactly 1 minute to boil. Remove the pan from the heat and leave the egg in warm water for about 10 minutes. Thus you will get a soft yolk.
First prepare the sauce. Egg yolks, salt and pepper in a blender place (you can use a regular blender) and rile 1 minute. Then warm the lemon juice and vinegar until it boils. Back on blender and pour the hot liquid in a thin stream. Now Melt the butter over low heat (taking care not darkened). When butter starts to foam, turn on the blender again and very slowly add the butter. Beat. There is another version of this sauce, which eventually add two egg white that you remained in surplus. Sauce will be lighter.
Poach eggs, one at a time and bake or bake meat. Keep warm all the time. Spread on bread with butter, put it in the baking dish and put each piece of two pieces of meat. At the top put the poached egg and pour sauce "Holandez" (about one tablespoon for each egg). Place under the grill to 25-30 seconds, just until the sauce gets a golden color. Serve immediately.
Eggs Benedict

,